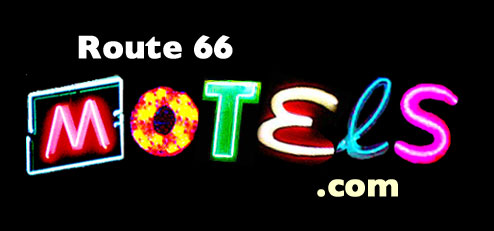 FAQs
Q. Who runs this site?
A. Emily Priddy, a Route 66 enthusiast from Tulsa, is the owner and Webmaster for route66motels.com. Emily is cofounder of Friends of the Mother Road Inc., a Missouri-based Route 66 preservation group, and has served on the boards of the Illinois Route 66 Association and the Oklahoma Route 66 Association. She and her husband, Ron Warnick, proprietor of the Route 66 News blog, participate in the National Historic Route 66 Federation's Adopt-A-Hundred Program. Emily has traveled Route 66 extensively (though not as extensively as she would like) and is an avid preservationist. She is also the author of Route 66 for Kids, a guidebook for parents traveling the Mother Road with their children. Mike Ward, a Route 66 enthusiast from Arizona, is the western representative for route66motels.com. Mike is involved in many Route 66 organizations and has traveled the road extensively. Incidentally, Mike and Emily grew up in southern Illinois, in towns located about 10 miles apart (and about 100 miles from Route 66), although they were there at different times and did not know each other until they met through the Route 66 Yahoo! group. They both remain in mourning for the late, great Egyptian Drive-In -- home of the world's largest movie screen -- which was torn down a few weeks after Emily's class reunion in 2003.
Q. What is the purpose of this site?
A. To encourage Route 66 travelers to support the "little guy" by staying in some of the interesting, unusual mom-and-pop motels along the Mother Road. Mom-and-pops are usually cheaper than chain motels. And the money you spend at family-owned businesses typically stays in the local community instead of going off to fill some corporation's coffers. Best of all, mom-and-pop motels make your trip more interesting. From the tepee-shaped buildings at the Wigwam Village motels in Holbrook, AZ, and San Bernardino, CA, to the dazzling neon sign and cozy rooms at the Blue Swallow in Tucumcari, NM, mom-and-pop motels are memorable places.
Q. Why isn't my favorite motel listed here?
A. Several reasons. Emily and Mike may not be familiar with your favorite. This is just a list of their personal favorites. If they haven't been there, your favorite won't be on the list. Or your favorite might not meet the standards for listing on route66motels.com.
Q. So what are the standards?
A. There are three. First, no vermin. Second, it has to be clean. This means no visible dirt and no weird smells. Third, no motel caught advertising itself as "AMERICAN OWNED" will ever be listed on this site. Period. No exceptions.
Q. What's wrong with saying the motel is American-owned? Isn't that just being patriotic?
A. No. It would be patriotic to fly an American flag or put up a sign that says something like "Support our troops" or "God bless the U.S.A." The phrase "American owned" has a racist connotation. Forty percent of the motels in the United States are owned by people of Asian descent. Unfortunately, a lot of negative -- and inaccurate -- stereotypes have sprung up about these property owners. Some people think a motel owned by someone from India or Pakistan will be dirty or poorly maintained. A few people even say mean things like, "If you smell curry, leave in a hurry," as if a person who knows how to make a good batch of tandoori chicken is somehow less qualified to run a motel than a person who fixes hamburgers or lasagna for dinner. When a motel owner puts up a sign that says "American owned," he is pandering to this unfair stereotype. There is no legitimate reason to advertise one's pedigree on a billboard or in front of a business. Emily has stayed in many, many motels along Route 66 and elsewhere, and she never has been able to find ANY correlation between the owner's nationality and the quality of the service she receives. Some of her favorite motels are Asian-owned. As Route 66 enthusiasts, we owe a debt of gratitude to the dozens upon dozens of hardworking motel owners of ALL nationalities who have gone out of their way to keep these cool old motels alive and well and safe from the wrecking ball. To read a beautiful speech given by Route 66 author Michael Wallis on this important subject, click here.
Q. So are there any American-owned motels listed on this Web site?
A. Lots of them. They just don't feel the need to advertise it.
Q. Can I nominate my favorite motel for listing on this Web site?
A. Sure. Just e-mail Emily at redforkhippie (at) gmail (dot) com and explain why you think the motel deserves to be included. If it sounds promising, she or Mike will try to check it out. If it meets the standards listed above, it will be added to the site. Please be aware that a personal visit from either Emily or Mike is mandatory before a motel can be added to the site, and because Emily and Mike both have hectic schedules and can't get out on the road as often as they'd like, it may be several months (or longer) before they are able to follow up on tips. Because they love to travel and enjoy visiting new places, you can rest assured that they will get out there and check out your suggestions as soon as they possibly can.
Q. I really want my favorite motel to appear on this site, but it has an "American owned" sign out front. Is there anything I can do?
A. Yes. Talk to the owner. Tell him that you are trying to convince Emily to include his business on this Web site, but she won't even consider it until he gets rid of that sign. If he ditches the sign, e-mail Emily at redforkhippie (at) gmail (dot) com and let her know so she or Mike can check it out.
Q. Does route66motels.com have any advice on how to tell whether a motel is any good or not?
A. Tons of it. First, a well-maintained neon sign is usually a good omen. Neon is very expensive to maintain, so when the sign looks good, it means one of two things: Either the owner is willing to spend money to take care of his property, or the owner has been extremely lucky and hasn't suffered any damage to his sign. Second, always, always, ALWAYS ask to see a room before you check in -- especially if you're trying a new place or haven't stayed at an old favorite in a while. Situations change sometimes -- properties change hands, owners get too sick to take care of regular maintenance, etc. -- and a great property can go downhill fast. (Conversely, a motel that was a total fleabag last year could turn out to be a real showpiece this year if it changes hands or the owner decides to remodel it, so don't write a place off forever because of one bad experience.) To improve your chances of finding a good room, do your homework: Check this Web site or join the Route 66 Yahoo! group and ask the members for recommendations. Another good resource is the Dining and Lodging Guide published by the National Historic Route 66 Federation. The guide is updated every couple of years and is pretty reliable.